| | |
| --- | --- |
| | "Birds of a Feather" Solitaire Card Game |
---
Designed August 9, 2016 by Todd Neller
First presented in AI Matters "AI Education Matters" Column: Vol. 2, Issue 4, Summer 2016: Birds of a Feather (wiki page)
EAAI Birds of a Feather Research Challenge for faculty-mentored undergraduates (PDF)

Video Introduction (mp4, 40:39)
Base Code - Here is competition base code in the form of an Eclipse Java project that includes a GUI for play, a model of the game state, and a rudimentary solver (easily improvable). This is intended as a starting point; feel free to port to other languages, extend, modify, etc. as your curiosity leads you!
Research challenge teams should have at least one undergraduate student and at least one faculty mentor. Interested teams should contact Todd Neller.

*NEW*

Code for generating Birds of a Feather solvability classification data and video overview (38:51)
Important Dates:

September 1, 2018: Author AAAI website registration and abstract submission deadline

September 5, 2018: Author electronic assignment submission deadline

November 1, 2018: Author notification
November 14, 2018: Final revisions due
January 28-29, 2019: Symposium

A good 4-color deck for playing Birds of a Feather
"Birds of a feather flock together."
Materials: a standard, shuffled 52-card deck
Setup: Deal cards singly, face-up into a grid (e.g. 4-by-4).
Object: Form a single stack of all cards. (For more a more general objective, see Birds of a Feather.)
Play: A player may move one stack of cards onto another stack of cards in the same row or column if the cards on top of the stacks have either
the same suits, or

the same or adjacent ranks.
Aces are low and not adjacent to kings, so rank adjacency is according the ordering A, 2, 3, …, J, Q, K.
Example 4-by-4 grid deal: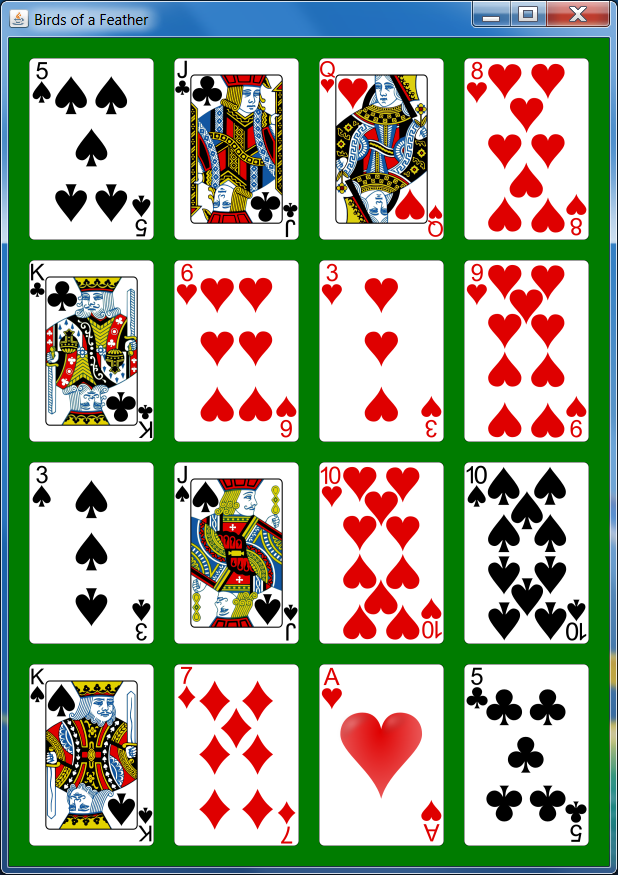 Example solution: TS-9H AH-TH AH-3H AH-QH 6H-7D JS-JC KS-3S KS-KC 5S-KS 6H-5C 5S-TS AH-8H 6H-AH 5S-6H 5S-JS
Eclipse Java project for playing and solving Birds of a Feather puzzles. This is not highly optimized. Rather, it is intended as a starting point for exploration.
TinyURL address: https://tinyurl.com/boafpuzzle