CS 201 - The Mathematics of Computation
Fall Semester, 2003-2004
Go straight to the course syllabus.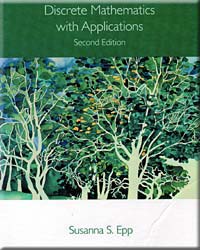 Many people are unaware that mathematics forms the foundation of computer science. Digital circuits, algorithm design and analysis, automata, computational decidability and complexity, compilers, and efficient searching techniques are all rooted in mathematics.
To understand the fundamental concepts in computer science, we first must obtain a knowledge of the underlying mathematics--in particular, discrete structures. We will study topics such as mathematical logic, set theory, mathematical induction, mathematical definitions and proofs, and graph theory with applications and illustrations drawn from computer science.

CLASS INFORMATION:
Meeting time: MWF 1:10-2:00
Meeting room: Glatfelter 107
OFFICE AND OFFICE HOURS:
Office: Glatfelter 202A
Office hours: MWF 10:00-11:50 and by appointment
TELEPHONE NUMBER AND E-MAIL:
Telephone: 337-6630
E-mail: jfink@gettysburg.edu
WWW page: http://cs.gettysburg.edu/~jfink/courses/cs201.html
EXAM DATES:
Exam 1: Wednesday, September 24
Exam 2: Monday, October 27
Exam 3: Wednesday, November 19
Final Exam: Friday, December 19, 8:30-11:30 AM
PREREQUISITES:
Math 111 - Calculus I (C grade or better)
CS 111 (formerly CS 104) - Computer Science I (C grade or better)
TEXTBOOK:
Discrete Mathematics with Applications (second edition) by Susanna S. Epp
ISBN 0-534-94446-9
COURSE CONTENT:
Topics from Chapters 1, 2, 3, 4, 5, 7, 8, and 9
GRADING POLICY:
Your grade will be determined by your scores on the following:

homework (25%);
three exams (15% each);
final exam (30%).

***There will be no make-up exams, and late work will not be accepted.***
DAILY READINGS:
Assigned readings should be done before class, and you should also attempt a problem or two from the textbook.
Working problems is essential for an understanding of the material, and there are plenty of problems in the textbook.
HOMEWORK:
Homework will be assigned, collected, and graded.
Assignments may include material that will not be discussed in class. You are expected to learn this material on your own and to make use of the resources available to you to complete the assignments.
Grading will be based on both the content and the quality of your write-up. NEATNESS COUNTS! Show all work necessary to justify your solutions. Answers alone are not sufficient.
You may work with other students on the homework; in fact, I encourage that. However, your write-up should be your own.